HOLDING THE CONSULTATION MEETING OF PATENT RULES (DRAFT)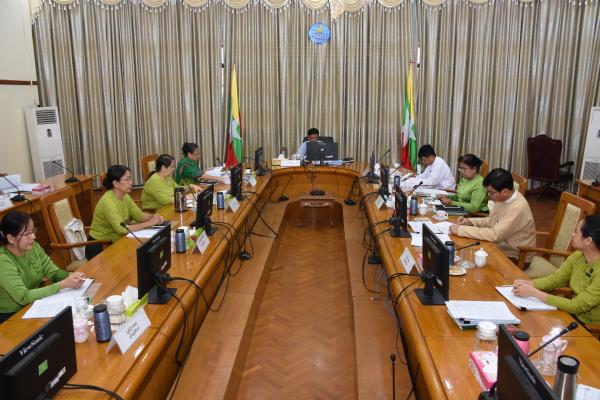 The consultation meeting of Patent Rules (draft) was held at the meeting room (1) of the Ministry of Commerce, Nay Pyi Taw in the afternoon on July 13, 2023 and the Deputy Minister for Commerce delivered an opening speech.
In the opening speech, the Deputy Minister said the intellectual property sector is the main role for the development of the business ecosystem of the State. Intellectual Property Department has been implementing IP system in order to increase foreign investments, create new job opportunities, enhance trade facilitations, and promote innovations. In this regard, the four IP Laws namely Trademark Law, Industrial Design Law, Patent Law and Copyright Law were promulgated in Myanmar in 2019.
And then, he said that Patent Law was promulgated on March 11, 2019 with the aim to have mutual advantage of technological knowledge and socio-economic welfare between inventors and users of inventions, to develop the production of the State by promoting technological innovations and dissemination and transfer of technology and to encourage the development of innovative social environment.
Deputy Minister also said that the Intellectual Property Department (IPD) has drafted Patent Rules for the implementation of the Patent Law. As the comments and suggestions for the draft rules have been received from the respective ministries and organizations, this consultation meeting was held. Moreover, he added that the necessary matters in the draft rules will be amended and added based on the discussions and recommendations of today meeting and the rules will be confirmed to enter into force in accordance with the procedure.
Next, Director General of the Department of Intellectual Property, Dr. Moe Moe Thwe and the responsible person of the Patent Division explained with PowerPoints the status of asking comments and suggestions on the draft Patent rules and the preparatory conditions of the final draft. Thereupon, representatives from the invited ministries and organizations discussed their respective sectors on the rules and the meeting was concluded.
Agency Ministry of Commerce
Category General