MYANMAR COFFEE EXPORT PROMOTION TASK FORCE HOLDS ITS FIRST MEETING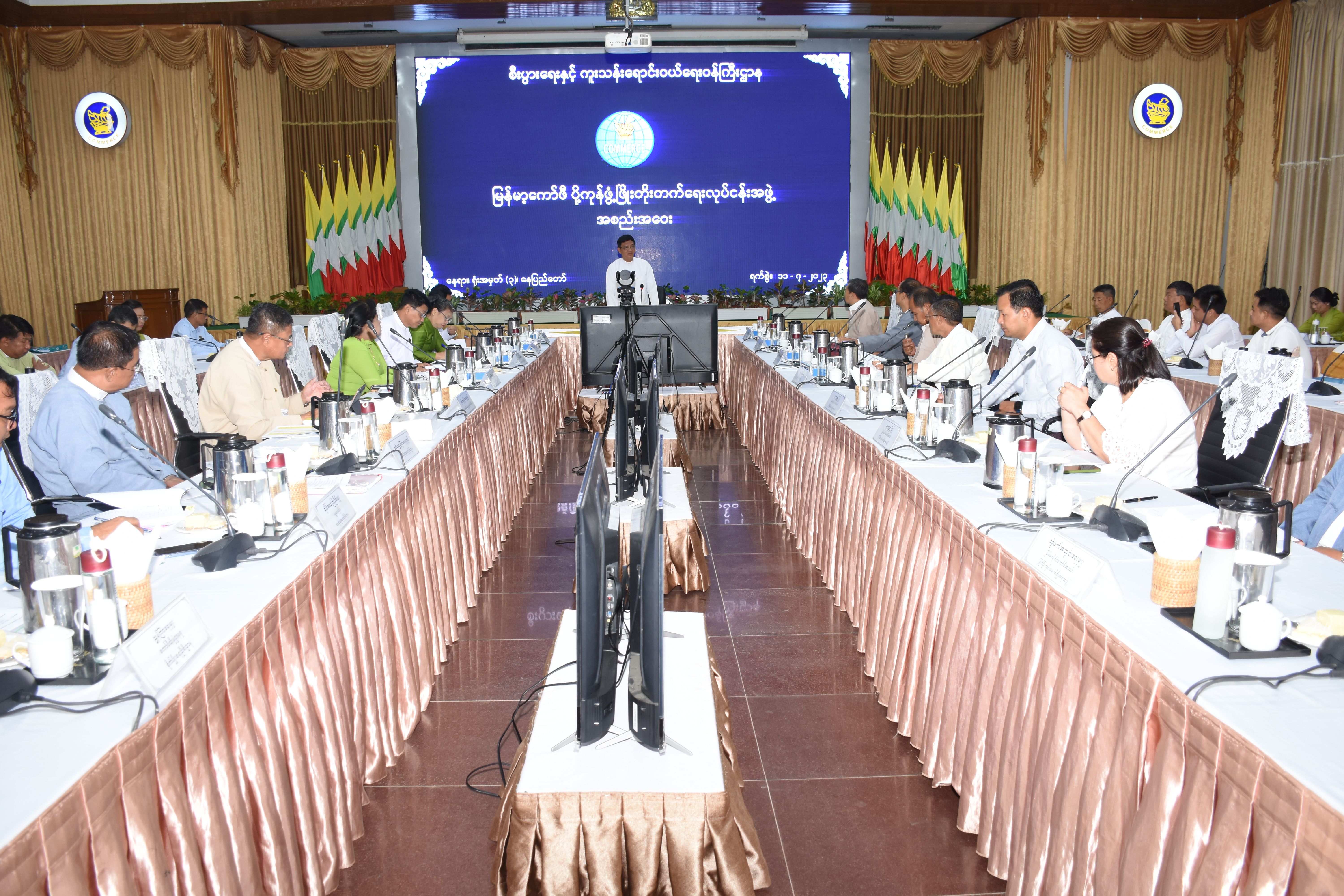 The Myanmar Coffee Export Promotion Task Force held its first meeting at 10.00 AM on 11th July 2023 at the meeting room (2) of the Ministry of Commerce, Nay Pyi Taw and the Chairman of the Myanmar Coffee Export Promotion Task Force, Deputy Minister for Commerce U Nyunt Aung delivered the speech.
At the meeting, the Chairman of the Myanmar Coffee Export Promotion Task Force, said that the Central Coffee Committee has been formed to encourage for the development of the coffee sector, to lay down the relevant policies needed for the implementation of the coffee supply chain and intending Myanmar to become as a major coffee exporting country to access global market. He also mentioned that the three Supervisory Committees and the Myanmar Coffee Export Promotion Task Force under the Central Coffee Committee have also been set up for the expansion of coffee plantations as well as the development of coffee value chain. The Deputy Minister also said that a working group led by Director Generals from the Ministry of Commerce toured Taunggyi, Ywagan and Hopong in the Shan State, and Pyin Oo Lwin in Mandalay Region, where the coffee beans were mainly produced, in order to explore and discuss with the farmers and producers.
The members of the Task Force widely discussed the status of coffee production in respective regions and states, the expansion of plantation, lending loans for the development of the coffee plantation and production, availability of qualified seeds, technical assistances for high quality products, smooth import of machineries to produce the value-added coffee products and land utilization. Then, the Chairman of the Task Force coordinated the issues discussed by the members.
The Director Generals from Ministry of Commerce, the Heads of the General Administration Departments form Kayin State, Shan State, Tanintharyi Region and Mandalay Region, the officials concerned from the Department of Land Administration and Statistics, the Directorate of Investment and Company Administration, the Department of Agriculture, the Department of Forest, the Chairman of Myanmar Coffee Association and leaders of Coffee Clusters from Pyin Oo Lwin, Ywagan and Hopong attended the meeting.
Agency Ministry of Commerce
Category General